JavaOne 2015 is a wrap!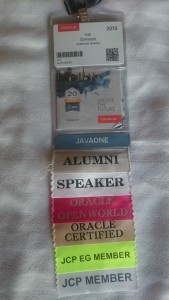 Five days packed with technical sessions, discussions, community building…It is such a blast!
I have heard more than once that this conference is more about the people than the technology. And I totally agree with that.
Since I am pretty heavy involved in the Java Community Process (JCP), many of my activities this year (as last year) was connected to this. I was interviewed on NightHacking about the JCP in general as well as the JSRs I am on the expert group of (368, 371 and 375). I also managed to get in a word or two about Snoop with input from Arun Gupta.
In addition to my planned sessions, CON1615: Meet Snoop – a Discovery Service for Java EE and BOF3666: How would you like to improve the Java EE Security API, I was also on stage at the CON4176: Introduction to MVC 1.0 (JSR 371).
Thursday morning we had a very productive Face-to-Face meeting in the JMS 2.1 Expert Group (JSR 368). The minutes from this meeting can be found here.
Last, but not least, thanks to Tomitribe for gathering together the #usualsuspects and making sure everyone is having a good time.