Welcome to the sixth issue of Hashtag Jakarta EE!
On the fun side, I was made aware that my shoutout for the Hashtag series may be a little confusing as you can see in my conversation with Ronnie Zolverda.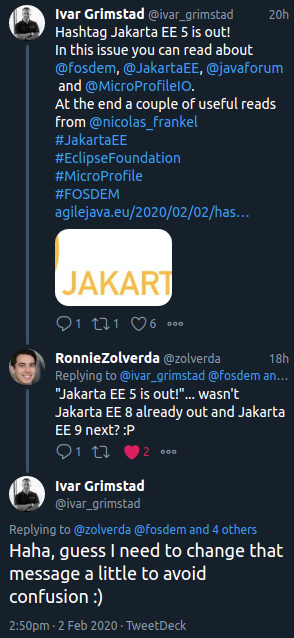 I didn't want to use #5 to indicate number 5 since Twitter would then interpret the hashtag (#) as if I were tagging the number 5. Also interesting that nobody reacted on the first 4 posts…
From this week on, I will tweet that "Hashtag Jakarta EE number X is out!" to avoid confusion in the future 🙂
So, over to the technical side. Gunnar Morling referred me to a recent article of his where he describes how to use the JDK Flight Recorder to monitor REST APIs.
We didn't have any Jakarta Tech Talks or Update calls this week, but the work with Jakarta EE 9 proceeds as planned. The status is best followed by checking out the project board. We have now passed the deadline for individual component release plans. These are Java Activation Framework 2.0 and Jakarta Enterprise Beans 4.0. The rest will follow the release plan for the full platform.
The discussions regarding establishing a working group for MicroProfile, mentioned in Hashtag Jakarta EE #1 and #3, continue with weekly MicroProfile hangouts as well as being a recurring topic in the Jakarta EE Steering Committee.

So far, there are two proposals on the table; a joint working group or two separate working groups. While the structure of the working group(s) is important, another aspect is the technical alignment of Jakarta EE and MicroProfile. A couple of weeks ago David Belvins put forward a couple of proposals to bootstrap the discussions. A third proposal was presented by Steve Millidge where he proposes that profiles in Jakarta EE are promoted to individual brands and that MicroProfile becomes a profile of Jakarta EE. Interesting thoughts!