Welcome to issue number one hundred and thirty-one of Hashtag Jakarta EE!
Jakarta EE 10 isn't quite released yet, but that doesn't stop us from celebrating the release. Check out the recording of the Jakarta EE 10 Release Celebration if you weren't able to join us live last Tuesday.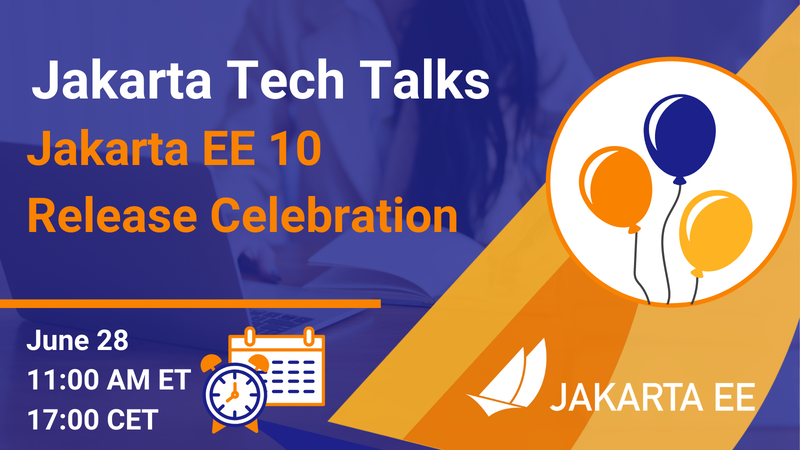 The release itself is imminent. There are a couple of TCK challenges that need to be sorted out and dealt with to get everything to pass. GlassFish 7 currently passes the Jakarta EE 10 Platform TCK, but there are some changes required in the Jakarta Concurrency 3.0 TCK related to Jakarta Concurrency now being a part of Jakarta EE 10 Web Profile. It was not required for the Web Profile in previous releases, and some cleanup with regards to the packaging of the test deployments has to be cleaned up. Jakarta EE 10 Core Profile has some similar issues, but this is regarding some of the tests for Jakarta RESTful Web Services 3.1 still references Jakarta XML Binding 4.0. This works well for Web Profile, where Jakarta XML Binding is required, but not for Jakarta EE Core Profile where it's not.
So to sum up, it is very close. Just some small nits that have to be dealt with. Then we should be ready to go!

After a week at home in sunny Sweden, I am going to Nürnberg, Germany for Developer Week '22 this week. I have two talks at this Years's edition. First out is Jakarta EE Security – Sailing Safe in Troubled Waters, where I am co-speaking with Werner Keil. Directly after this talk, Jakarta EE 10 – Feature by Feature is up.
I will most likely go for a run in one of the parks in Nürnberg on Thursday morning. Let me know if you're into running and want to join me. If I know you're coming, there is a cool Jakarta EE functional T-shirt in it for you. Werner, I've got you covered 🙂