Devnexus is one of the absolute highlights of every conference year, and the 2023 edition was no exception. It truly is the place to be for the Java Community.
In addition to the dedicated Jakarta EE track featuring two days packed with amazing talks, we also had a booth where we had conversations about Jakarta EE as well as handed out swag. In addition to the usual stickers and t-shirts, we also had 5-year anniversary branded socks that proved to be extremely popular.
Speaking about the anniversary, at the end of the first conference day, we served 5-year anniversary cake at the booth.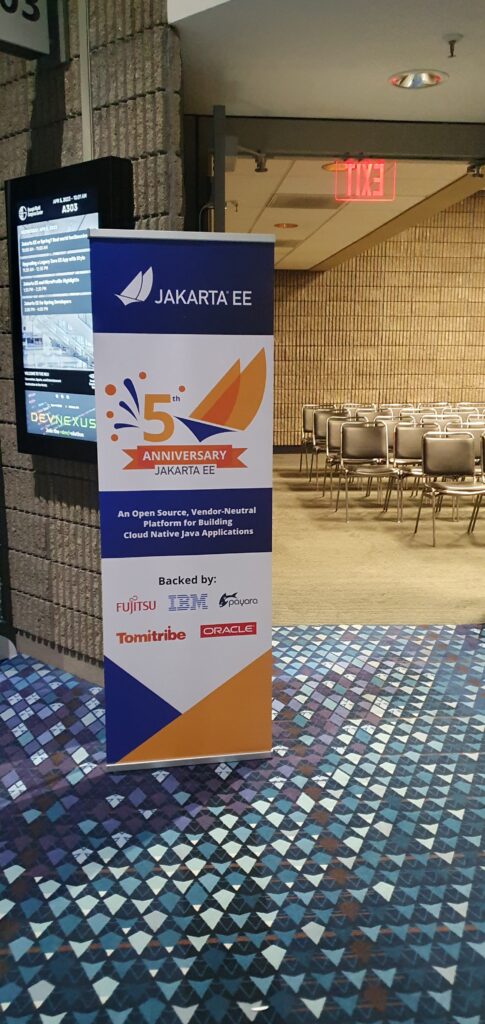 My talk titled Jakarta EE for Spring Developers was well attended. With about sixty percent of the attendees being Spring developers, the topic hit the mark. In addition to pointing out how closely related Spring and Jakarta EE are, the major part of the talk is a demo where I migrate an application from Spring Boot 2 to Spring Boot 3 with a focus on what to think of related to the namespace change from javax.* to jakarta.* and how it impacts Spring and Spring Boot.
And, of course, whenever possible, I invite everyone to join me in a Jakarta EE Community Morning Run before the conference day starts. This time, we did a community run on both Wednesday and Thursday mornings.