Welcome to the sixtieth issue of Hashtag Jakarta EE!
As I mentioned last week, the release plan for Jakarta EE 9.1 has been published. The target release date is the end of March 2021. GlassFish 6.1 now compiles and runs on Java SE 11, and the work with getting it to pass the TCK goes on.
The Jakarta EE Platform team has also started to prepare for the next Jakarta EE release after 9.1. At them moment, we are collecting input from the various specification projects to be able to define the content of this release. The deadline for starting plan review for the next Jakarta EE release is April 15, 2021. Make sure to check the minutes for updates. We encourage specification projects to join the Platform calls and give an update on their plans. The details for the platform calls can be found in the Jakarta EE Platform Calendar.

The JUG Leaders Summit and Devnexus took place this week. Devnexus is an awesome conference to visit, and the virtual edition this year was no exception. Let's just hope that we will be back in Atlanta for next year's edition.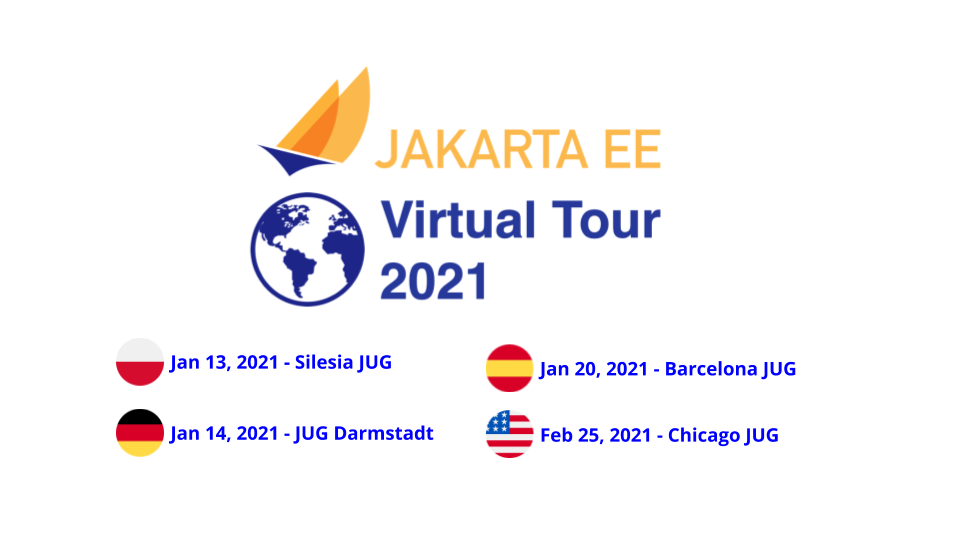 There is only one more stop planned on the Jakarta EE Virtual Tour, and that is Chicago JUG on February 25. We really enjoy giving these talks, so please reach out if you are interested in hosting us at your JUG or MeetUp.