I don't think we will ever experience anything like 2022 regarding conferences. This was the year we all went back to meeting in person after the two dark years of the pandemic. As one of the privileged able to travel to speak at a significant number of conferences, I got to experience firsthand the joy, relief, and happiness from organizers, speakers, and attendees that we were back to meeting again.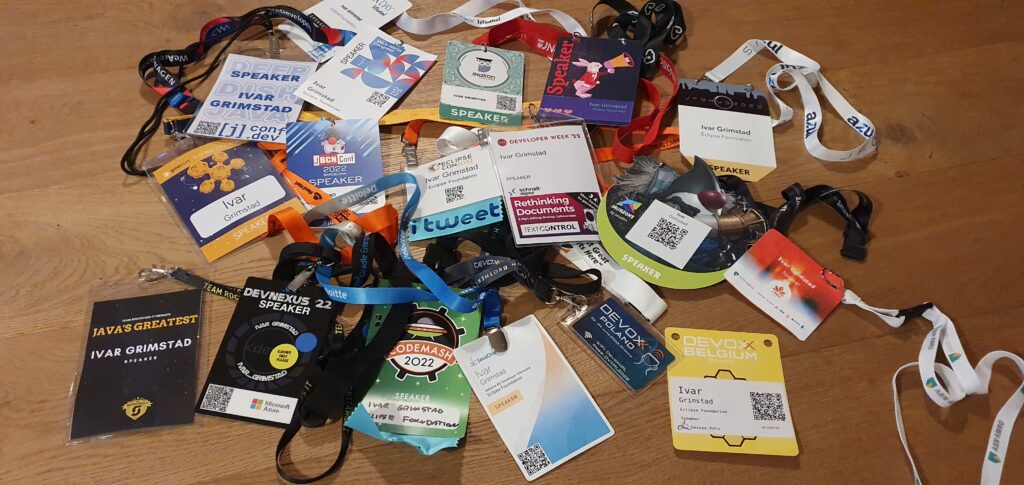 As you can see from the heap of badges, it was a busy year. Since I wrote a short write-up after each event, I won't repeat that here. You can check out the individual reports here:
I always bring my running shoes with me when I travel. That way, I can get out to explore the area while exercising. It is the perfect way to start a conference day. Whenever practical, I invited conference attendees to join me on these Jakarta EE Community Runs. Take a look at the video we showed as a part of JakartaOne Livestream 2022.
I am happy to share that I just received a new batch of the beautiful, and very popular, Jakarta EE lightweight running shirts to bring along to conferences in 2023. And it doesn't stop there, this batch of shirts includes women's sizes!
Join me for Jakarta EE Community Runs in 2023 to get one, and get in shape at the same time!